Siding Replacement North Richland Hills
Fill out the form below and a North Richland Hills Siding team member will get back with you as soon as possible.
New Siding Installation & Repair North Richland Hills
Siding contractors that can transform your home without compromising your budget is very hard to find. North Richland Hills Windows & Siding takes pride in putting quality over profit so your vision for your home is transformed into reality.
From new siding installation to replacement projects, North Richland Hills Siding and Window is the most reliable siding contractor you can trust. No matter where you live in the Dallas-Fort Worth area, we provide excellent customer service and high-quality craftsmanship on every project.
Everything you own shows off your unique personality and style preference. Insulated siding not only adds to the visual appeal of your home but also adds an extra level of security between you and the unpredictable weather in the Dallas Fort Worth area. In addition to this, it makes your home more energy-efficient, helps you lower your electric bills, and saves your money.
Click the "Book An Estimate" button above to request your free NRH Siding quote & tell us more about your project.
We'll contact you within 24 hours to discuss your project and set up an appointment for your FREE estimate.

After you receive your quote you can choose to book and schedule your Windows NHR Siding job.
We Offer A Variety of Siding Options for Your Home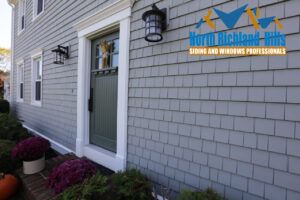 Every home is different and each homeowner has his own unique vision for his home. There is a wide range of different siding options to choose from. For instance, Vinyl siding can take a beating from Mother Nature. If you're tired of owning siding that easily sags, warps, melts and expands, siding NRH of North Richland Hills, TX will customize your siding on-site.
Composite Siding
Celect Composite Siding by Royal is inspired by the distinctive look of wood planks but it does not give you trouble from the maintenance demands that natural wood requires. Giving you the feel of timeless wooden siding without its corresponding inconveniences and expenses, its interlocking joints keep moisture out which makes it last a very long time.
Vinyl Siding
Vinyl siding provides your home a superior weatherproof feature. It also adds a beautiful decorative touch to your home's façade. It is made primarily from PVC resin and vinyl siding is extremely durable and resistant to strong impacts. Some other benefits include:
Low maintenance
Mold and mildew resistant
Vibrant color options
Affordable

Energy efficient
Shake Siding
North Richland Hills Windows & Siding provides you greater flexibility in your exterior design with cedar shake siding. With a wide variety of sizes and styles, you can let us customize your home's exterior and enhance its unique architectural structure. You can choose from a variety of options including our popular cedar shake siding.
After years of preparation and development, we are proud to present our newest endeavor: Siding North Richland Hills. We believe that giving only the best quality, craftsmanship and service available will help us become DFW's most trusted siding company. Over the last two years, we have rounded up a group of remarkably talented and committed siding experts and representatives who are thoroughly trained to meet the highest standards of quality. All of our efforts have paid off; we now have a team with more than three centuries of combined experience.
JAMES HARDIE SIDING
The foundation of your dream home usually starts with a durable, aesthetically pleasing exterior. The first thing that your neighbors and visitors will notice is your home exterior. After that they will see other aspects of your home so it should reflect your personal style and the home environment you try to cultivate both inside and out. James Hardie offers a wide selection of traditional and modern siding style.
VINYL SIDING
Vinyl siding is a type of plastic exterior siding that is made for houses and small apartment buildings. The two main purposes of having vinyl siding are for decoration and weatherproofing. However, vinyl siding is also commonly used for replicating wood clapboard, shakes, and acts as a replacement for aluminum or fiber cement siding.
CELECT SIDING
It is engineered to increase the value of your entire home. Improving its exterior with virtually seamless and elegant looks. It is durable, virtually maintenance free and compatible with any home design available in the market. Celect is made from recyclable, hi-tech cellular materials. Which means it will not rot, split, crack, warp, twist, blister, or suffer loss of structural properties because of termites, microorganisms or other cause of decay.
Want to Know How We Can Help You?
We believe every homeowner deserves better-looking SIDING!
Superior Siding Craftsmanship in North Richland Hills
Finding a professional siding contractor that will give you excellent customer service isn't always easy. At North Richland Hills Windows & Siding, we always consider our customers our top priority. We are very proud to be one of the most trusted names in Dallas-Fort Worth.
If you're considering installing new siding or replacing the old ones you have, give us a call and our knowledgeable staff will answer any questions you have in mind before scheduling your free on-site consultation. Our highly-skilled installation team will then surpass every expectation you have because they will install your siding within schedule and according to your budget. After the job is completed you can enjoy the new look of your home while having the peace of mind because you know that your investment is protected by manufacturer warranties.
These are the nearby cities that we provide service:
North Richland Hills,Keller, Colleyville, Southlake, Trophy Club, Roanoke, Grapevine, North Fort Worth, Euless, Bedford, Hurst, Arlington, Haslet, Saginaw, Argyle, Lake Worth, Azle.
We remove all rotten wood before installing your new siding or vinyl siding. Matching seamless gutters provide perfect finish for storm doors, and vinyl shutters. All of our Siding installers are experienced carpenters, who always give the personal touch to every siding installation. 
Happy Client in North Richland Hills
"Siding North Richland Hills did an great job with the installation of new Hardy Board siding. I was amazed at how quickly they completed the takedown, installation and painting all in just a couple of days.
Their team came by after to do the finish out and installed new light fixtures, house numbers, door jam/seals, new electrical outlet and much more in just a couple hours. I'm not sure if I was more impressed with his abilities or more embarrassed of my own."
"They did a terrific job. Very professional. From the estimate to the window installers to the siding installers to the painters to their leader guy who does all the finishing touches.Their Crew Leaders were very informative and kept me in the loop to what was going on and answered all my questions promptly. The crews arrived every morning and worked steadily through the day. Cleaning up at the end of every day. I am very pleased with the speed and the quality of their work."
"Siding North Richland Hills did an excellent job replacing all of my exterior siding with Hardie siding and replacing my roof with a metal roof. My house looks amazing!!! They were very professional – they did everything they said they would do! I couldn't be happier!!! We chose this company based on the window brands they sold, services they offered, easiness to work with (no heavy sales pitches here!), and reviews from satisfied customers."
WHY CHOOSE SIDING NORTH RICHLAND HILLS?
Siding North Richland Hills commitment is backed up by a satisfaction guarantee and financing arrangement for everyone. Therefore, if in any case that you are not satisfied and happy with our work, we will fix everything for you with no cost at all. That is how confident we are in the kind of service we are offering to you.
Low Maintenance
You'll never have to paint your house very frequent again! Unlike wood that needs to be painted or stained, vinyl requires no paint. Vinyl siding will only require mild cleaning with soap and water once a year using a garden hose.
Vinyl siding is not water absorbent and its rain screening design prevents water from being trapped behind the siding. Fiber-based products are a mixture of sand and wood pulp. These two tend to disintegrate over time when moisture breaches the plank. Water trapped beneath the siding will stimulate rot, it also causes mildew and mold, and invites insect infections.
Color Retention
Today's new manufactured siding retains its color longer than older vinyl. It will keep looking beautiful throughout the years. It also comes in hundreds of colors and a variety of textures, from smooth to deep wood grain.
Energy Efficiency
Combined with quality insulation, vinyl siding can improve a home's efficiency in energy consumption. It naturally deflects the sun's heat in summer and blocks cold winds in winter causing a decrease in your energy consumption.
Durability
Our manufacturers offer a lifetime warranty because naturally a vinyl siding Roswell is made to last. You don't have to worry about replacing your siding again. All certified vinyl siding is tested to withstand the hottest summers and extreme winters, including strong winds up to 180 miles per hour. We guarantee high quality products, experienced professionals, licensed & insured installation, FREE estimates and prompt service all at very competitive prices. 
Call us now for your Siding needs...
Here in North Richland Siding, we aim to give our best in every project that is handed to us. You're not going to hit a ridiculously long phone menu when you call us. Your email isn't going to the inbox abyss, never to be seen or heard from again. With Siding North Richland Hills  we provide the exceptional service we'd want to experience ourselves!