Celect Siding - Siding North Richland Hills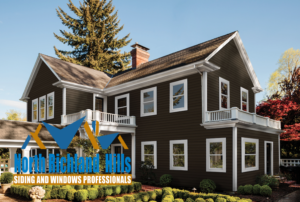 Celect® Cellular Composite Siding by Royal®
It is engineered to increase the value of your entire home. Improving its exterior with virtually seamless and elegant looks. It is durable, virtually maintenance free and compatible with any home design available in the market.
Celect is made from recyclable, hi-tech cellular materials. Which means it will not rot, split, crack, warp, twist, blister, or suffer loss of structural properties because of termites, microorganisms or other cause of decay. 
Celect is made of cellular PVC composite. It is designed to replicate the natural grain of wood without the corresponding hazards and trouble it imposes.
Celect Cellular Composite Siding by Royal® created the perfect balance of form and function so that you can enjoy your siding in the best way possible.
With regards to overall aesthetic and energy efficiency, sidings are the most important feature out of every aspect in your home. Homeowners throughout the area always prefer the look of authentic wood siding. However, there are many drawbacks associated with wood.
Throughout the years, wood siding will distort in the sun and the panels will separate eventually. What is worse about that is that this unappealing deterioration will leave your home vulnerable to dry rot, mildew, and cracking. Siding from Celect eliminates all of these problems while increasing the appeal of wood siding at the same time.
Celect's patented interlocking joint system makes seams on the siding nearly invisible unlike other siding products. In addition to that, Kynar Aquatec solar reflective finish comes with a 25 year warranty and is resistant to rot and pests, making it almost maintenance free.
Performance
Backed-up by a limited lifetime and 25-year color-protection warranty
Stands up to impact even under the toughest weather conditions
Wind resistance can withstand more than 210 mph
Kynar Aquatec® coating for exceptional protection against Ultraviolet rays
Interlocking joints naturally adjust to expansion and contraction
No delamination: no wavy lines, no gaps, warping is not present as well.
High Sustainability
It has almost twice resistance capability than that of fiber cement and wood
Unique white substrate absorbs lesser heat
Materials are recyclable
Kynar Aquatec® coating provides extreme UV resistance causing it to reflect the energy back towards the atmosphere—reducing the demand of energy in terms of heating and air-conditioning
Insulates 70% better than wood
Low Maintenance
Cellular PVC material resists dirt, seasonal staining and repels insects
Kynar Aquatec color coating is very efficient that it eliminates the need for frequent repainting.
Interlocking joints also eliminate gaps in between boards that is usually seen in comparable products
No need to frequently caulk it like fiber cement

Want to Know How We Can Help You?